About us
Hello!!
Let's talk about us! We have dreams and we have visions, best of all we want to share them with you! 
In 2004, We decided to make our dream come true, we started creating a space that was unique open and comfortable for quest activity and workshops. The living room made in timber frame with a vaulted ceiling of 32 feet high and a walk around mezzanine.
The rooms are spacious with 9' ceiling airy and bright.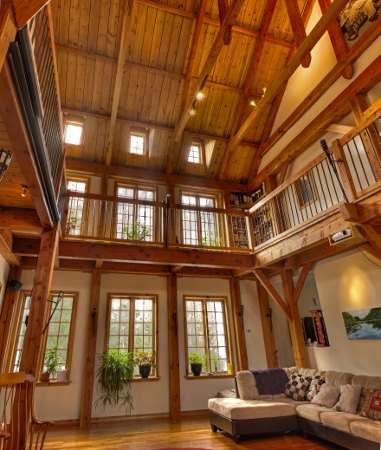 Two spacious verandas on the side of the house, balcony in the front and in the back, five spacious rooms and wooden floors throughout the house. It's a beautiful dream.
The dream did not stop there; We wanted to utilize the wood we harvests in the forest to supply all our heating needs for the house. In the basement, we have a wood furnace which is used to heat and distribute water into tubes for radiant floor heating. We harvest our own firewood to heat the house.
We also used our wood from our trees to make some of our floors, the living room floors are made from our own cherry wood.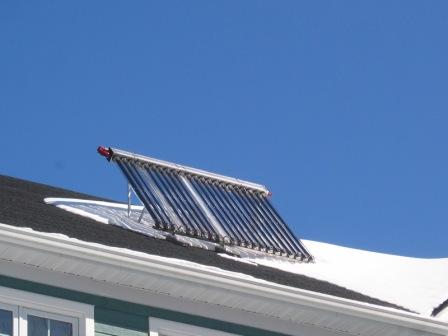 We thought it was the ideal way to go. We added a solar panels to help increase the efficiency of heating system to supplement our hot water requirement and this is only the beginning! This year we added even more hiking trails in the forest, the possibility are endless!
We wanted so much to share our visions and our passion with you! Just image a place surrounded with wooded areas, trees and fresh country air.

We have our own water supply and we have access to our own spring water which is absolutely beautiful.
A place of quiet serenity, a place of healing, to renew body, mind and soul! A place to retreat and to regain personal balance and best of all, we wanted to share all of this with you!
We have a wonderful forest with a lot of biodiversity and walking trails that are marked.
We are planning to offer meditation places in energy vortex areas that we have found in our forest. 


We hope you will come and experience this healing place for yourself; come sit on the dock by the lake, take a canoe ride and take in a beautiful sunset. You can find rest on our cozy veranda, or have a peaceful sleep in one of our spacious room, meditated in the forest, explore our hiking trails, take in some healing sessions. Whatever you need to regain a sense of "well being," you can be sure, we are here for you!!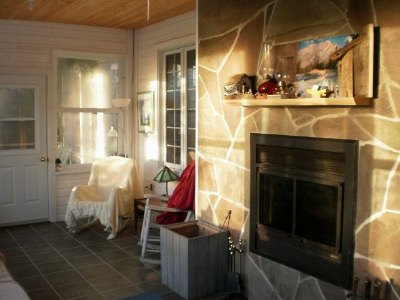 Click here to return to the home page from this About us page