Hummingbird Retreat for Healing
Retreat, reflect and renew
Welcome to the Hummingbird-retreat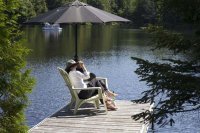 We offer Relaxation Retreat with 6 different chose of body work, from relaxation massage, lymphatic drainage to Japanese pressure point massage. As well as Healing Retreat with energy massage, energy balance and energy counselling for physical, mental, emotional and spiritual health.
The Hummingbird retreat is a located in the Eastern Townships of Quebec and steps away from a beautiful lake where you can enjoy peaceful canoe rides before sunset or quiet meditation in the forest.
Our 32 acres of land have beautiful natural landscapes, walking trails, creeks and natural spring water. Come feel the healing of nature and its tranquility and rejuvenate your soul.
We customize retreat package to suit your dietary needs and your individuality.
Talk to us about setting up your own unique packages today! 1-450-297-1161 or go to our contact page.
We're located an hour from Montreal in the Beautiful Eastern Townships just off highway # 10 our address is:
621 Rang 1, St-Etienne-De-Bolton, Quebec, Canada, J0E 2E0
All our retreats can be paid with Paypal, cheque or cash
You can go to our directions page to find directions on how to get here.
The Hummingbird retreat where you can enjoy our 32 feet ceiling timber frame livingroom, spacious rooms and beautiful surroundings.
Stay current with what is happening at the hummingbird retreat!
How two people from different world came together to share a dream and a life together, find out about us
Let me tell you about Sheska, how she combine Energy work into her therapeutic massage and create "energy massage" therapies
Here is how to contact us. We are near lac Libby in St-Etienne-de-Bolton
Testimonials: Read what people are saying about Sheska's extraordinary healing skills.
How does your emotional state relate to energy?
As an Energy worker, I offer energy consultations to help you find balance and to find your personal power
Energy healing will help heal reoccuring pains and injuries, calming the mind and the mind to refocus.
Energy Massage is a calming relaxation massage that focuses on the healing of emotional memories that maybe found hidden inside the muscles or tissues of the body.
When unexpected stress or unresolved grievances occur from the past or recent trauma they can cause the body to have energy blockages.
Energy Massage improve your energy flow on a molecular level, improving your overall balance and releasing unwanted energy blockages.
When our energy is balance we are able to perform at the peak of our ability and efficiency physically and emotionally.
Relationship reading is about opening communication lines in our energy field. To strengthen our understanding and to reconnect with one and other for the benefit of our health and personal balance.
Unwind and retreat into a quiet place where you can relax and breath again...
Healing retreat is the perfect combination of rest and body, mind and spirit healing.
Making time for reflection and take time to make for those important decisions
You can spend a day trip at the Hummingbird retreat which includes lunch and a relaxation massage
Our retreat rooms are spacious comfortable and bright and offer a calm and nuturing space
Here is a Photo gallery from the retreat and the beautifull lake Libby and surroundings.
You will find things to do around the retreat
The ability of the human body to regain its health by experiencing different massage therapy techniques.
Here are the directions to find our retreat
Here are the 2015 retreat rates; we've simplified our rates to make it simple for you.
Links and usefull resources
Your privacy is important to us, our privacy policy ensures that your information is protected.
Collection of articles on body mind spirit.
Here at the Hummingbird retreat we love hummingbirds find out interesting facts about hummingbirds
Various healthy lifestyle workshops held at the retreat