Hot Stone Massage Therapy
The Hot Stone Massage Therapy or Hot Stone Massage uses an ancestral method first discovered by the Arizona Natives. The Volcanic stone has been recognized for centuries for its ability to capture energy and heat and to renew energy and warming the muscle and tissue of the body.
The movement of the stone and the heat increases inflexion and extension of the muscles to relieve tensions, better blood circulation and energy loss. You'll love the feeling of the Stone especially when it is heated! To start this wonderful journey, we begin with placing the hot stone and plants onto the back. Next, comes the wonderful feeling of a head massage while the warm stone radiate its heat and relaxing the back muscles.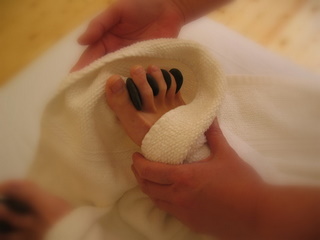 Then comes the wonderful leg massage, lightly oil and applying hot stone directly onto the skin. The leg muscles relaxes with the pressure of the stone and expand with heat of the stone.
The hot stone are especially great to use in areas like the shoulders and the arms which carries a different kind of tension. The size of the stone and how it is shaped can be easily used on areas that require a deeper tissue massage.
Most of all you will love the heat and the smoothness of the stone, we found the combination of heated volcanic stone along with plant and herbs to be most effective.
The wonderful aromatic sensation not only soothes but also promotes a deep relaxation and a sense of well being.
This technique is done with the combination of oil and essential oil giving the body a totally wonderful experience.
---


Click here to return to the home page from this Hot Stone Massage page